FALL FESTIVAL IS COMING! VENDORS WANTED!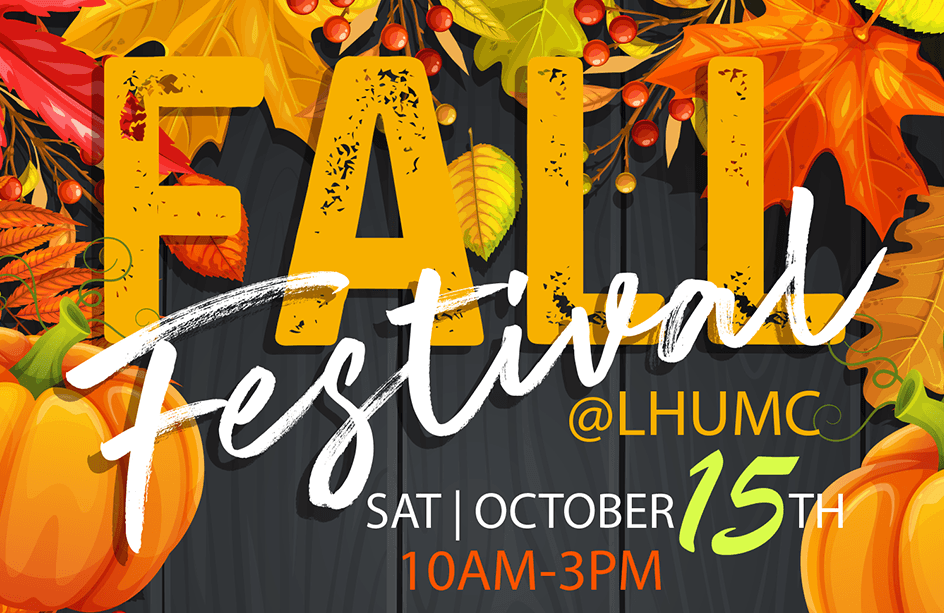 Mark your calendars for Saturday, October 15, 10 am-3 pm! Booth space is just $25 (outdoor space) or $50 (indoor space with electricity). Reservation forms are available at the link below or on Connect wall in the LHUMC gathering space.
Please send the completed form and payment no later than Friday, October 7. First come, first served. Vendor payments and donations can be made at www.lakehoustonumc.com. For questions, email Shirley Hitt at shirleyhitt07@gmail.com.
Check out who will be here!!!
Here is a list of the vendors who have signed up to be at our Fall Festival so far. It is not too late for you to get on the list as well. Just use this form or click the button above to sign up!
Indoor Booths (7 of 20)
Pampered Chef - Quality kitchen products
Luv Quilting N Crafting - Tumblers, keychains, croc charms, dog bowls, and quilts
Popcorn Gypsy - Homemade gourmet popcorn and toffee
Brandi's Candies - Flavored caramels and peanut brittle
Inspired Sprout - Teacup Soy Candles, Crystal Pendants, Resin Trays, Crystals
Wrapped N Memories - Tshirt memory blankets, holiday aprons, tea towels, microwave bowl koozies, bag holders, Elf on the Shelf outfits, sleeping bags, and chairs
Scentsy - Scentsy fragrance products
Outdoor Booths (8 of 24)
Beaded Soul - Handmade beaded bracelets
Dark Star Delights - Freeze-dried snacks, candy
Becky's Blankets and Wreaths - Baby & throw blankets, ornaments, fabric tie wreaths
Devine Designs - Tumblers, epoxy pens, and sublimation items
Cactus Sunrise - Custom tees, car coasters, bows, mesh trees, door mats
Tastefully Simple - Seasonings, sauces, baking, and other mixes
Rain's Rarities - Keychains, jewelry, soap
Resin N More - Resin cups, shirts, tumblers